RB EVO EXCLUSIVE KTM 390 DUKE/RC 2017-2019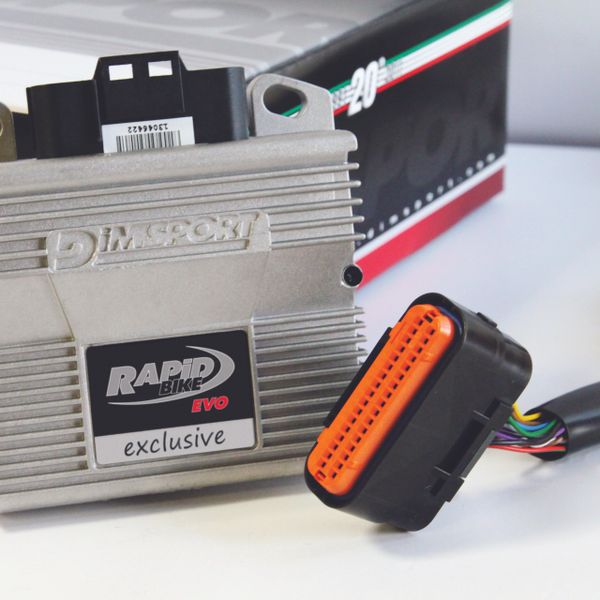 RB EVO EXCLUSIVE KTM 390 DUKE/RC 2017-2019
CALIFORNIA CUSTOMERS WARNING: You acknowledge and agree that the selected products that you are about to purchase from Rapid Bike USA affecting factory-installed emission equipment are intended FOR RACING USE ONLY, i.e. for use and installation on racing vehicles to be used on closed courses only, and MUST NOT be used on roads or installed on vehicles subject to emission control requirements. You agree NOT to use or install the product(s) on vehicles registered or used on California public roads. By purchasing this product you confirm that you have read and understood this Warning and you agree that you will comply with its requirements. Any use inconsistent with the above will void the manufacturer's warranty without further notice. Our products are NOT EPA or CARB approved. 
Rapid Bike EVO and Racing kits are now available in a new "Exclusive" kit: a more simple version offered at a very interesting and competitive pricing, strictly dedicated to a specific bike model .  
  Exclusive models CAN NOT be reprogrammed and installed on a different model and DOES  come with USB communication cable. 
 Exclusive kits carry out the same great identical features of Rapid Bike EVO and Racing kits with the exception of what is mentioned above. 
 We are going to add more kits to our USA inventory and please e-mail us if you have a model specific question regarding Rapid Bike Exclusive kit applications and depending on the make, model and availability , if we don't have it in the inventory, it can be ordered and may take up to 4 weeks to receive it.   

IMPORTANT NOTE: Exclusive kits are ONLY available for a limited select models not for entire line of Rapid Bike kits. PLEASE e-amil us before ordering if you have any questions. info@rapidbike.us