RB RACING DUCATI PANIGALE V4 EURO 5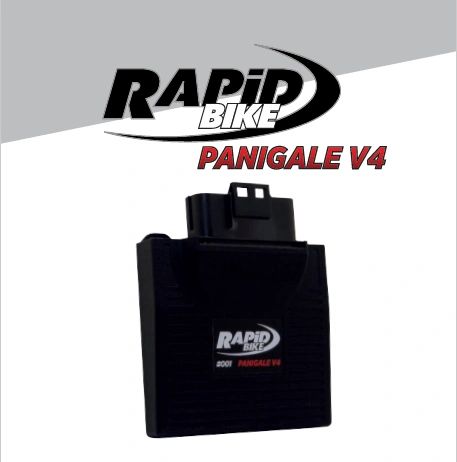 RB RACING DUCATI PANIGALE V4 EURO 5
NEW Rapid Bike Racing kit coming soon for the 2021-2023 Ducati Panigale V4 Euro 5! Only 100 will ever be made, so preorder now to get 15% off with free shipping and enhance your riding experience!
Please note, expected product release date is 6 weeks from 1/21/2023. You may cancel your preorder at any time for a full refund.
If you would like to see the installation manual, please use this link: 
Rapid Bike RACING add-on module represents the highest level of technology available for reaching top performance, offering the widest range of solutions for demanding professional track riders and street users.


WITH the RACING MODULE YOU ALWAYS RIDE LIKE A PRO!
Starting from the latest standards set by Rapid Bike EVO, the RACING module offers a revolutionary technology to manage the crankshaft position sensor signal and is designed to provide additional and innovative features to reach unmatchable results within the competitive arena.
This product is sold only as a complete kit including wiring harness, lighter/reduced-dimensions add-on module, and USB cable. This module includes 2 injection maps (for cylinders 1-2 and 3-4) and a customized ignition map, managing 4 upper injectors together with all 4 stock lambda sensors for accurate air/fuel ratio management! 
No additional Rapid Bike accessories can be connected to the Racing module. 
This module is NOT reprogrammable to be installed on a different bike model. 
ENJOY RACING!