My Tuning Bike: CAN-BUS auto tuning module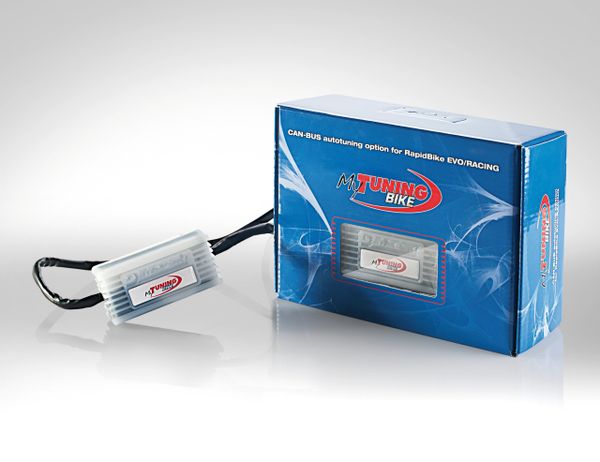 My Tuning Bike: CAN-BUS auto tuning module
  Please note: My Tuning Bike kit greatly improves speed and accuracy of adjustments, but it is not necessary for EVO or RACE systems Auto adaptive tuning future. However, this kit is necessary for motorcycles that did not come with O2 sensors as OEM equipment, such as most Kawasaki models, ZX10R and ZX6R, older Suzuki GSXR, and some Yamaha R1 models. If you are not sure about what to order along with your system please e-mail us for more information about your specific application, which also is necessary for any motorcycle with ECU that has been flashed/altered. 
     
 My Tuning Bike kit improves the Rapid Bike module's auto-adaptive feature to achieve a real-time auto-tuning system. Using a Bosch LS 4.9 wideband O2 sensor (lambda) the Evo and Racing modules can perform real-time correction of the injection map with an unmatchable speed and accuracy. Up to four My Tuning Bike can be installed on the same bike (one for each
cylinder, as long as the injection map is set properly). Includes Bosch wideband sensor.


After the first engine start the My Tuning Bike device registers the serial number of the Rapid Bike module to which is connected, then it will no longer work if connected to a Rapid Bike module having a different serial number.  My Tuning Bike allows to set an Air/Fuel target for each cell of the map or only one target value for the entire map.
A
steel bung
is included for the installation of the additional O2 sensor (lambda) on the
exhaust pipe. The O2 sensor (lambda) for the My Tuning Bike device DOES NOT REPLACE the stock O2 sensor (lambda).
It must be installed IN ADDITION to the stock equipment. It is YOUR RESPONSIBILITY to ask any questions related to the installation of this product so we may advise per your circumstances/equipment! 
However, if the stock O2 (Lambda) sensor/s has been disabled by an ECU flash or with the installation of a factory option race ecu or an aftermarket ecu then My Tuning Bike Module/s can be used by itself.
Additionally, any air injection system MUST be disabled to give the MyTuningBike the proper reading of exhaust gasses. 

  The switch maps (F27SWMAPS-ER or F27SWMAPS2-ER) no longer serve the purpose to change the maps once the My Tuning Bike device is installed. Rather, the switch will turn on and off the auto-tuning operation.
  The kit codes ending with "B", "C" and "D" indicate the My Tuning Bike kits for cylinders n°2, n°3, and n°4. It is necessary to purchase those kits when multiple My Tuning Bike devices are going to be installed on one bike.
With the addition of My Tuning Bike, the function of "Map per gear" can be activated ( in most models but NOT ALL ) this feature allows 1 base map for each gear and 1 trim map for each gear allowing dedicated maps for each gear to be created and trimmed at all times.  

NOTE: My Tuning bike system and the Bosch wide band sensor can be purchased separately. Both are non-returnable.