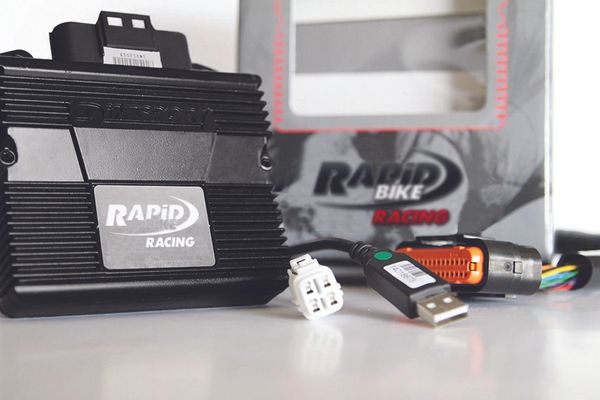 RB RACING YAMAHA YZF R3
All RapidBike products are for closed-course competition use only.
RPM LIMITER CAN BE RAISED BY 1000RPM ON THIS MODEL.

K27RBRACING: Kit including the RapidBike Racing module, WIRING HARNESS and the USB cable.
The RapidBike Racing module maintains all the features of RapidBike Evo, in addition performs also the following:
o Ignition timing management
o Pit-lane limiter
o Engine braking management
(the only add-on module on the
market with this feature).
The range of adjustments for the ignition timing goes from -10° to +10° of the stock ignition timing and it is performed by modifying the crankshaft sensor signal. The pit-lane limiter (controlled by a switch sold separately) allows to limit the speed of the bike in the pit-lane (or in all those locations where the speed is strictly monitored). The engine braking management operates on the injection system and it can be easily set using the software (with both, Free and Pro software version):
The accelerator pump operates on both, ignition and injection. F27-ER-XXX: Wiring harness for RapidBike Evo and Racing modules, (included in the kit). The same wiring harness is used with both modules (the Racing module is not available for all bike models on which the Evo module can be installed). It has plug-n-play connections with "Automotive" quality standards.
Usually it connects to:
o Injectors (max 8)
o Crankshaft position sensor
o Lambda / O2 sensors (up to 2 sensors) S1000RR has 2 O2 sensors.
o Gear position sensor (not on all bikes)
o Tail light switch (for the power supply – not on all bikes)
o Throttle position sensor (TPS).
Additional plug-n-play connections available for all RapidBike accessories. There is no need to use any additional module (while this is a "MUST" with our competitors).