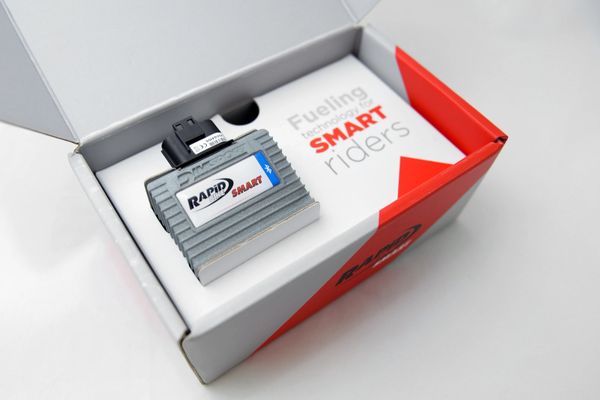 RB SMART APRILIA
THIS SYSTEM IS FOR EURO 5 ONLY! PLEASE KNOW AND PAY ATTENTION TO WHAT EURO SPEC YOUR BIKE IS BEFORE ORDERING!!!

EMISSIONS AND NOISE REGULATIONS
CALIFORNIA CUSTOMERS WARNING: You acknowledge and agree that the selected products that you are about to purchase from Rapid Bike USA affecting factory-installed emission equipment are intended FOR RACING USE ONLY, i.e. for use and installation on racing vehicles to be used on closed courses only, and MUST NOT be used on roads or installed on vehicles subject to emission control requirements. You agree NOT to use or install the product(s) on vehicles registered or used on California public roads. By purchasing this product you confirm that you have read and understood this Warning and you agree that you will comply with its requirements. Any use inconsistent with the above will void the manufacturer's warranty without further notice. Our products are NOT EPA or CARB approved. 
FUELING TECHNOLOGY FOR SMART RIDERS
THE USE OF POD FILTERS OR HEAVILY ALTERED AIRBOXES CAN AFFECT THE PROPER MODULATION OF FUELING. WE HEAVILY RECOMMEND THAT IF YOU UTILIZE THIS SETUP TO SET THE BASELINE ON THE DYNO.
THE NEW 
RAPID BIKE SMART ADD-ON FUELING KIT
 IS SPECIFICALLY DESIGNED TO IMPROVE THE PERFORMANCE OF THE NEWEST MOTORCYCLE MODELS EQUIPPED WITH
 HIGHLY SOPHISTICATED LAMBDA SENSORS COMPLYING WITH THE LATEST EUROPEAN HOMOLOGATION CRITERIA
.
This technology directly controls the lambda sensor signal in order to prompt stock ECU to adopt richer carburetion over the entire delivery power curve, while securing substantial benefits for the engine's overall performance.
Rapid Bike SMART technology introduces an innovative concept of software management with user-friendly parameters specifically designed to amplify or reduce the effects of the stock lambda sensor signal modification.
PERFORMANCE
Rapid Bike SMART fueling technology allows to enrich (AFR) air/fuel ratio and to optimize injection values ​​thanks to the self-adaptive logic of stock ECU. Power delivery is considerably smoother while improving throttle response and engine reaction. The increase in terms of power and torque are consistent with the engine in stock configuration, while the performance of after-market exhaust systems can reach a higher efficiency level thanks to the richer fuel mixture gained with the SMART add-on module.
PRODUCT DESCRIPTION
Compact dimensions for easy installation
Wireless communication via Bluetooth
Two simple steps to disable the module and bring back the motorcycle to the stock configuration: a throttle openings sequence, or a digital switch available through the software
Equipped with status led for immediate diagnoses
Plug-and-play wiring harness separate from SMART add-on module
Dedicated free software version for managing the effects of stock lambda sensors signal modulation
DOWNLOAD MANAGEMENT SOFTWARE