SPRINT FILTER "P16" 899/1199/1299/R/Superleggera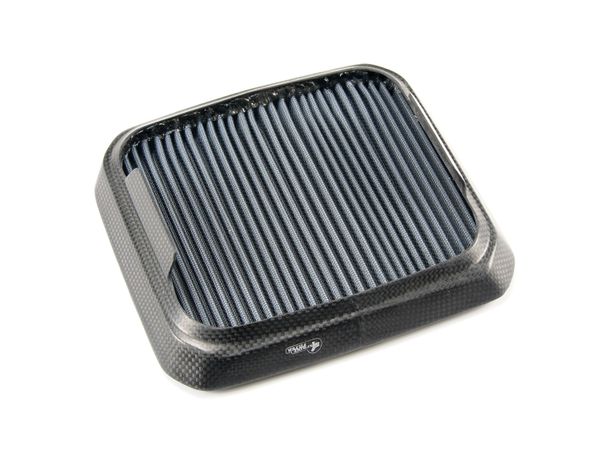 SPRINT FILTER "P16" 899/1199/1299/R/Superleggera
This filter will be drop shipped from Brock's Performance directly.
P16 RACING/TRACK USE ONLY
Engineered specifically for Panigales
Filtration surface area increased 210% vs OEM filter
FIM Homologated
Gorgeous carbon fiber frame
Uses P16 mesh, Sprint Filter's highest-performing filter material
(recommended for race applications only)
Innovative polyester material allows for consistent airflow
Optimized filter surface area provides more airflow, more power and more filtration
Increased air permeability and filtration efficiency when compared to cotton air filters
Race proven performance in organizations like MotoGP and Moto3
Can be cleaned using only compressed air
Dry filter, no oil treatments required
Direct OEM replacement
Easy plug and play installation; no tools or modifications required
1 year warranty

About Sprint Filter: Established in 1952, Sprint Filter started building high performance air filters and intake systems. Ever since their inception products have always been highly innovative and based on ongoing research and development of new filtering fabrics and intake systems.




Innovative Material: The Sprint Filter P16 has completely reinvented the concept of an aftermarket air filter. The innovative polyester material that is used allows the air to remain constant and calibrated unlike cotton or sponge materials that become inconsistent under pressure. A Sprint Filter is totally different from all others and its membrane filtering surface is double that of any other filter.




Power Increase: The Sprint Filter P16 provides the absolute best performance on every bike we've tested. Testing done on the bench shows that the P16 provides the right amount of air in the most consistent manner we've tested. This is achieved by providing more air, more power, and more filtration than any factory OEM filter.




Race Proven Performance: Sprint Filter has been a part of World Championships in MotoGP, Moto3, Superbike, Supersport, and Superstock. The P16 filter is the first choice of championship contenders. Research and development is constantly carried out at the highest levels of racing in search of maximum filtration without compromising power.




Low Maintenance: The Sprint Filter P16 is essentially maintenance free. Remove the filter and blow it clean with compressed air and you're ready to go. No messy oiling or washing required.




Long Lasting: If cared for properly, the Sprint Filter P16 will last for the entire time you own your bike.




Increased Fuel Economy: By optimizing the air/fuel mixture the Sprint Filter P16 allows you to consume less fuel all the while gaining more power!




Research and Development: We spend a tremendous amount of time and effort researching the best materials to use for the production of our air filters. The air filters are made with extreme precision to make sure you get the best air/fuel ratio for making power.




Efficient Filtration: The innovative polyester Sprint Filter P16 air filter stands apart from all other special cotton air filters for its increased air permeability along with its more efficient filtration and easy maintenance. The increase in air permeability and better performance in comparison with common cotton air filters is mainly due to two essential elements: the filtering material structure is made of polyester and the filter's folds are higher. These folds are what allow for the highest filtering surface on panel filters (20 mm) and work to the fullest advantage of air permeability and the quality of dirt filtration. Moreover, the total absence of oil to contain dirt allows for increased air entry with equal surface area. Furthermore, when considering that the filtering surface is very wide, an increase in airflow of approximately 25% is obtained in comparison with a cotton filter, working to the fullest advantage of the engines performance and the guaranteed protection of increased filtration.




Besides its increased air permeability, Sprint Filters P16 ensures extremely efficient filtration; as much as 80 microns, allowing to sieve out 93.13% of 100 micron particles versus the 76.42% of 100 micron particles trapped by cotton filters. This is made possible thanks to the special structure made of 5 micron diameter yarns which are woven together to leave room for a wide surface in which air passes freely.